Filter or subsetting rows in R using Dplyr can be easily achieved. Dplyr package in R is provided with filter() function which subsets the rows with multiple conditions.
We will be using mtcars data to depict the example of filtering or subsetting.
Filter or subsetting the rows in R using Dplyr:
Subset using filter() function.

library(dplyr)
mydata <- mtcars

# subset the rows of dataframe with condition
Mydata1 = filter(mydata,cyl==6)
Mydata1

Only the rows with cyl =6 is filtered

Filter or subsetting the rows in R with multiple conditions using Dplyr:

library(dplyr)
mydata <- mtcars

# subset the rows of dataframe with multiple conditions
Mydata1 = filter(mydata, gear %in% c(4,5))
Mydata1

The rows with gear=4 or 5 are filtered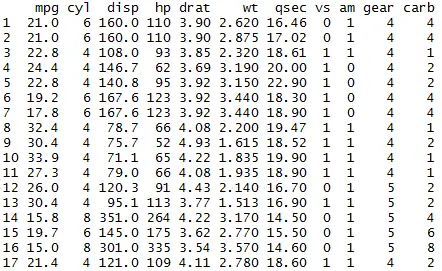 Filter or subsetting the rows in R with multiple conditions (AND) using Dplyr

library(dplyr)
mydata <- mtcars

# subset the rows of dataframe with multiple conditions
Mydata1 = filter(mydata, gear %in% c(4,5) & carb==2)
Mydata1

The rows with gear= (4 or 5) and carb=2 are filtered

Filter or subsetting the rows in R with multiple conditions (OR) using Dplyr:

library(dplyr)
mydata <- mtcars

# subset the rows of dataframe with multiple conditions
Mydata1 = filter(mydata, gear %in% c(4,5) | mpg==21.0)
Mydata1

The rows with gear= (4 or 5)  or mpg=21 are filtered
Filter or subsetting the rows in R with multiple conditions (NOT) using Dplyr:

library(dplyr)
mydata <- mtcars

# subset the rows of dataframe with multiple conditions
Mydata1 = filter(mydata, !gear %in% c(4,5))
Mydata1

The rows with gear!=4 or gear!=5 are filtered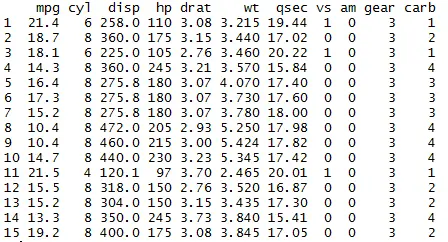 Filter or subsetting the rows in R with Contains condition using Dplyr:

library(dplyr)
mydata <- mtcars

# subset the rows of dataframe with multiple conditions
Mydata1 = filter(mydata, grepl(0,hp))
Mydata1

hp  which contains value 0 are filtered