ISEVEN Function in Excel tests if a supplied number (or numeric expression) evaluates to an even number, if so then the Function returns TRUE, if not the function returns FALSE.
Syntax of ISEVEN Function in Excel:
ISEVEN(value)
Where value argument is the Expression or value to be tested.
Example of ISEVEN Function in Excel:
Formula: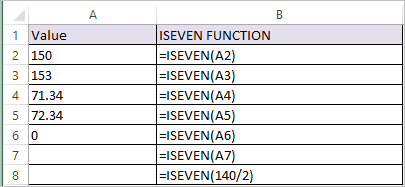 The above example takes up simple values and cell reference as input and returns TRUE only if the resultant value is an Even number, otherwise the function returns FALSE
Excel ISEVEN Function, also considers Even Decimals as even numbers. So 72.34 is considered as Even.
Result: