SQRT function in excel returns the square root of a number, when it is positive. SQRT Function returns an error if number is negative.
Syntax of SQRT Function in Excel
SQRT(number)
number – Number to find the square root of.
Example of SQRT Function in Excel
Formula
Row number 2 to 5 calculates the square root of the positive number
Row number 6 shows error when it tries to calculate the square root of negative number
Row number 7 supplies the number directly to the SQRT Function directly instead of cell reference
So the output will be
Result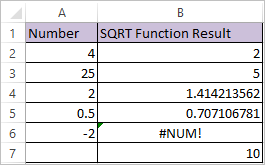 Note: #VALUE! Error occurs if the supplied number argument is non-numeric.
#NUM! Error occurs if the number has negative value.