Descriptive Statistics of the dataframe in R can be calculated by 3 different methods. Let's see how to calculate summary statistics of each column of dataframe  in R with an example for each method.
Descriptive statistics with summary function in R
summary statistics in R using stat.desc() function from "pastecs" package
Descriptive statistics with describe() function from "Hmisc" package
Let's first create the dataframe.

### Create Data Frame
df1 = data.frame(Name = c('George','Andrea', 'Micheal','Maggie','Ravi','Xien','Jalpa'), 
                 Grade_score=c(4,6,2,9,5,7,8),
                 Mathematics1_score=c(45,78,44,89,66,49,72),
                 Science_score=c(56,52,45,88,33,90,47))
df1

So the resultant dataframe will be
Descriptive statistics in R (Method 1):
Descriptive statistics in R with simple summary function calculates
minimum value of each column
maximum value of each column
mean value of each column
median value of each column
1st quartile  of each column
3rd quartile of each column
as shown below

# Summary statistics of dataframe in R

summary(df1)

summary statistics is
Summary / Descriptive statistics in R (Method 2):
Descriptive statistics in R with pastecs package does bit more than simple describe () function. It also Calculates
number of missing values and null of each column in R
number of non missing values of each column
sum , range ,variance and standard deviation etc for each column

# descripive statistics of dataframe in R 

install.packages("pastecs")  
library(pastecs)
stat.desc(df1)

summary statistics is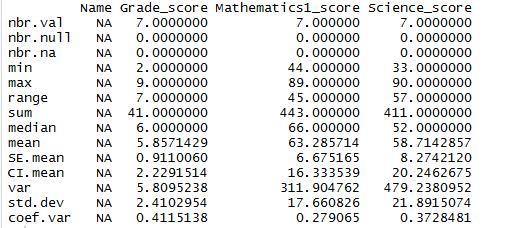 Summary statistics in R (Method 3):
Descriptive statistics in R with Hmisc package calculates the  distinct value of each column, frequency of each value and proportion of that value in that column. as shown below

# Summary statistics of dataframe in R 

install.packages("Hmisc")
library(Hmisc)
describe(df1)

summary statistics is