In this Tutorial we will see how to change or rename the column name in Postgresql with example. Let's see
How to (change) rename the column name of Single column in Postgresql
How to (change) rename the column name of Multiple column in Postgresql
With an example for each.
Syntax:
ALTER TABLE table_name RENAME COLUMN column_name TO new_column_name;
The table that we use is
odetails: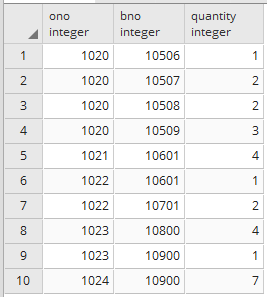 Rename or Change single column name in postgresql :
Lets rename the single column
ALTER TABLE odetails
RENAME COLUMN ono TO order_no;

So the result is
Rename or change the column name of multiple columns in postgresql:
We can rename only one column at a time. In order to rename multiple column we have to specify syntax multiple times.


ALTER TABLE odetails
RENAME COLUMN ono TO order_no;
ALTER TABLE odetails
RENAME COLUMN bno TO batch_no;

So we renamed both the column so the result will be