Rbind function in R row binds the data frames. In other words, Rbind in R appends or combines vector, matrix or data frame by rows. lets see an example of row bind in R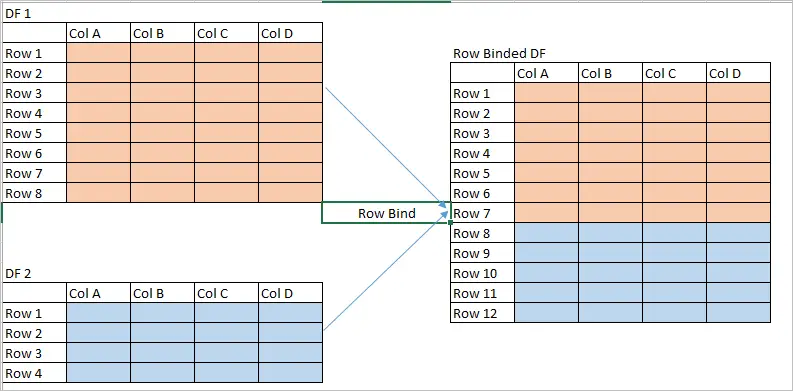 Note: Column names and the number of columns of the two dataframes needs to be same.
Syntax for Rbind function in R:
rbind(x1,x2)
x1,x2 can be data frame, matrix or vector.
Example of Rbind function in R: 
Lets see how to implement Rbind function in R with an example. First lets create two data frames

#Create two data frames

df1 = data.frame(CustomerId = c(1:6), Product = c(rep("Oven", 3), rep("Television", 3)))
df2 = data.frame(CustomerId = c(4:7), Product = c(rep("Television", 2), rep("Air conditioner", 2)))

  df1 will be 
CustomerId    Product
1          1       Oven
2          2       Oven
3          3       Oven
4          4   Television
5          5   Television
6          6   Television
  df2 will be 
CustomerId      Product
1          4      Television
2          5      Television
3          6  Air conditioner
4          7  Air conditioner
Now, Row bind (rbind) these two data frames as shown below

# row bind the data frames with rbind function in R.

rbinded_df<-rbind(df1,df2)
rbinded_df

so the resultant rbind data frame will be
  CustomerId    Product
1           1            Oven
2           2            Oven
3           3            Oven
4           4        Television
5           5        Television
6           6        Television
7           4        Television
8           5        Television
9           6    Air conditioner
10          7    Air conditioner